CMB ENGINES

HOBBY SUPPLIES "Australia" is the factory appointed Exclusive Australian Distributor for CMB Motori Italia.
The full range of CMB Marine Engines, Tuned Pipes, Spare Parts and Accessories are always in stock.
CMB Motori Italia are world leaders in Performance Model Marine Engines and well known for their powerful, strong and reliable engines with high quality Italian craftsmanship. CMB Engines are the most used race engines at current World Championships in Europe and powered most class Winners !!!. Over the past 30 years CMB has won over 100 World Championship Titles and set many World Speed Records.
CMB only manufacture High End Competition Race Engines to enable our customers success at any level of competition. The latest range of performance CMB Engines feature many new technical advances to keep you in the winners circle this season.
Please follow the links on our home page for details and prices on the latest range of CMB Headers and Performance Tuned Pipes
CMB 45 M-Line Direct Drive, 91 M-Line Direct Drive and 91RS EVO with M1 Tuning Kit now in stock
CMB 28.5 EVO2 gasoline engine now in stock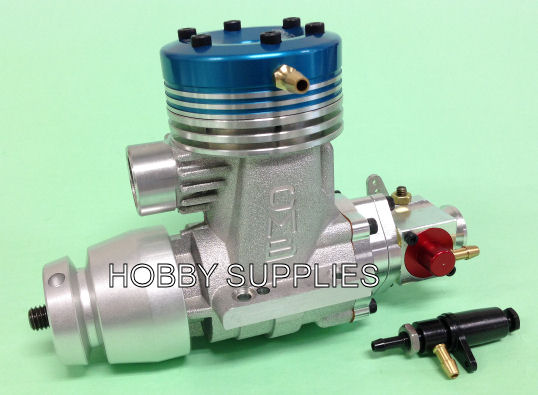 Visit Personal Currency Assistant™ to convert Australian Dollars to your Currency.

All Prices listed are in Australian Dollars and subject to change without notice. Any sale delivered to an address within Australia must include 10% GST (Tax). All export sales to overseas countries are GST (Tax) free.

IN STOCK

CMB .21 BETA EVO Direct Drive

More Power, More Torque, More RPM

New 2021 model is fitted with a new design Piston/Liner offering more torque and RPM, new Crankcase, new CNC billet drum housing plus billet Carburetor with Low End Needle Valve.

The new .21 Beta EVO engine has been designed for circuit racing boats with nitro fuel. The latest model features a new re-designed crankcase with larger boost and transfer ports and new design Piston/Liner. Large bore drum valve intake with bronze bushed housing, single plug head, separate bolt on Carburetor and R/C 3rd channel remote main needle valve.

| | |
| --- | --- |
| | 3.0 HP / 35,000 RPM |
| | Bore: 16.15 mm |
| | Stroke: 17.00 mm |
| | Displacement: 3.49 cc |

Export Price: AUD 545.00 Australian Residents: $ 599.00 (Inc GST)

IN STOCK

CMB .45 RS EVO Hydro/Offshore

New 2021 version .45RS EVO H/O engine features new wider crankcase but same bolt position as older RS version, new even stronger crankshaft, new design 5 port multi exhaust port piston/sleeve and new head button.

The new .45 RS EVO H/O crankshaft design offers greater stability at high RPM plus the crankshaft is supported by twin ball bearings. Also features a steel conrod with needle bearing big end and Zimmerman disk intake with increased section in central area. Includes a bolt on Carburetor with remote needle valve and new Gold anodised double water cooling head.

| | |
| --- | --- |
| | 4.5 HP / 29,000 RPM |
| | Bore: 21.8 mm |
| | Stroke: 20.0 mm |
| | Displacement: 7.46 cc |

Export P

rice:

AUD 663

.00

Australian Residents: $ 729.00 (Inc GST)

IN STOCK

CMB .45 M-Line Direct Drive Hydro/Offshore

This special edition CMB 45 "M-Line" direct drive engine includes all the performance features of the 45RS EVO engine plus a special edition performance M-Line Piston/Liner assembly, new design M-Line Crankshaft, Billet front housing with two bearings (one ball bearing and one needle bearing) plus Turbo head button and 6 bolt Red water cooling jacket.

Suitable for both Round Collet Drive and Square Drive applications

| | |
| --- | --- |
| | 4.6 HP / 29,000 RPM |
| | Bore: 21.8 mm |
| | Stroke: 20.0 mm |
| | Displacement: 7.46 cc |

Export P

rice:

AUD 722.75

Australian Residents: $ 795.00 (Inc GST)

IN STOCK

CMB .45 V5

CMB's CAM Style Drum is "BACK" now with longer stroke and even more power.

New 2021 version .45 V5 engine features new balanced crankshaft, new drum rotor, new design 7 port piston/sleeve and new head button.

More Power, More Torque, More RPM

| | |
| --- | --- |
| | 4.5 HP / 28,000 RPM |
| | Bore: 21.1 mm |
| | Stroke: 21.4 mm |
| | Displacement: 7.46 cc |

Export P

rice:

AUD

687.00

Australian Residents: $ 755.00(Inc GST)

IN STOCK

CMB .67HR EVO (Hydro Racing)

New 2021 CMB 67HR EVO engine comes with a new 8 port liner, new crankcase and blue water jacket.

The new 67HR EVO engine has been designed for circuit racing boats with nitro fuel for high RPM. The latest model features a new 8 port piston/liner, new crankcase with re-designed boost and transfer ports.

| | |
| --- | --- |
| | 4.8 HP / 28,000 RPM |
| | Bore: 24.6 mm |
| | Stroke: 23.1 mm |
| | Displacement: 10.97 cc |

Export P

rice:

AUD

699.00

Australian Residents: $ 769.00 (Inc GST)

IN STOCK

CMB .80HR (Hydro Racing)

New 2021 model is fitted with a new design Piston/Liner offering more torque and RPM, new CNC billet drum housing plus billet 12mm Carburetor with Low End Needle Valve.

The .80HR engine has been designed for circuit racing boats with nitro fuel. The latest model features a new re-designed crankcase with larger boost and transfer ports and a new design Piston/Liner. Also includes a steel conrod with needle roller big end bearing, large bore drum valve intake with bronze bushed housing, single plug head, bolt on Carburetor and R/C 3rd channel remote main needle valve.

| | |
| --- | --- |
| | 5.0 HP / 27,000 RPM |
| | Bore: 27.0 mm |
| | Stroke: 23.1 mm |
| | Displacement: 13.22 cc |

Export P

rice:

AUD

699.00

Australian Residents: $ 769.00 (Inc GST)

IN STOCK

CMB .91RS EVO Hydro/Offshore

All NEW CMB 91RS EVO engine has a new Piston/Liner with 3 exhaust ports and 5 inlet ports, larger OD Liner and Flat top piston. New Crankcase, Crankshaft, Front housing, Gold Water Jacket with 4 bolts and 13mm Carb. with Low End Needle Valve.

The new .91RS EVO marine engine features a new crankshaft supported by twin ball bearings for greater stability at higher RPM. Also features a new ABC Liner, modified cylinder porting, 3 exhaust ports and 5 inlet ports, improved transfer and boost ports. Also features double fixed crankshaft with two bearings, steel conrod with needle bearings, thin Zimmerman disk intake with increased section in central area, double water cooling chamber for better cooling, single plug head, bolt on Carburetor and R/C 3rd channel remote main needle valve.

| | |
| --- | --- |
| | 6.8 HP / 26,000 RPM |
| | Bore: 27.5 mm |
| | Stroke: 25.2 mm |
| | Displacement: 15.0 cc |

Export P

rice:

AUD 781.00

Australian Residents: $859.00 (Inc GST)

IN STOCK

CMB .91RS EVO Hydro/Offshore with M1 Performance Tuning Kit factory installed

VERY limited production so get in quick.

The new .91RS EVO marine engine features a new crankshaft supported by twin ball bearings for greater stability at higher RPM. Also features a new ABC Liner, modified cylinder porting, 3 exhaust ports and 5 inlet ports, improved transfer and boost ports. Also features double fixed crankshaft with two bearings, steel conrod with needle bearings, thin Zimmerman disk intake with increased section in central area, double water cooling chamber for better cooling, single plug head, bolt on Carburetor and R/C 3rd channel remote main needle valve.

| | |
| --- | --- |
| | 6.9 HP / 26,500 RPM |
| | Bore: 27.5 mm |
| | Stroke: 25.2 mm |
| | Displacement: 15.0 cc |

Export P

rice:

AUD 818.00

Australian Residents: $899.00 (Inc GST)

IN STOCK

CMB .91 "M-Line" Direct Drive Hydro/Offshore

This special edition CMB 91 "M-Line" direct drive engine includes all the performance features of the 91RS EVO engine plus a special edition performance M-Line Piston/Liner assembly, new design M-Line Crankshaft, Billet front housing with two bearings (one ball bearing and one needle bearing) plus Turbo head button and 6 bolt Red water cooling jacket.

Suitable for both Round Collet Drive and Square Drive applications

| | |
| --- | --- |
| | 7.0 HP / 27,000 RPM |
| | Bore: 27.5 mm |
| | Stroke: 25.2 mm |
| | Displacement: 15.0 cc |

Export P

rice:

AUD 908.00

Australian Residents: $998.00 (Inc GST)

IN STOCK

CMB 1.01RS EVO Hydro/Offshore

All NEW CMB 1.01RS EVO engine has a new Piston/Liner with 3 exhaust ports and 5 inlet ports, larger OD Liner and Flat top piston. New Crankcase, Crankshaft, Front housing, Gold Water Jacket with 4 bolts and 13mm Carb. with Low End Needle Valve.

The new 1.01RS EVO H/O marine engine features a new crankshaft supported by twin ball bearings for greater stability at higher RPM. Also features a new ABC Liner, modified cylinder porting, 3 exhaust ports and 5 inlet ports, improved transfer and boost ports. Also features double fixed crankshaft with two bearings, steel conrod with needle bearings, thin Zimmerman disk intake with increased section in central area, double water cooling chamber for better cooling, single plug head, bolt on Carburetor and R/C 3rd channel remote main needle valve.

| | |
| --- | --- |
| | 6.9 HP / 26,000 RPM |
| | Bore: 29.0 mm |
| | Stroke: 25.2 mm |
| | Displacement: 16.6 cc |

Export P

rice:

AUD 781.00

Australian Residents: $859.00 (Inc GST)

IN STOCK

CMB 27 Alpha EVO2 Rear Exhaust Gasoline Engine

We have just received a small number of the latest 2021 version CMB 27 Alpha EVO2 gasoline engines factory fitted with high performance "M1" tuning kits, these special edition engines are available at no additional cost over the standard race engine. The CMB "M1" high performance tuning kit alone costs over $500 !!! - Contact us for more details

New 2021 version 27 Alpha EVO2 engine features the latest version crankshaft, new design piston/sleeve, new head button, new water cooled backplate and new carburetor.

CMB designed the new 27cc gasoline engine from the ground up using the latest in 2 stroke technology and manufacturing processes.

Features a removable Hard Chrome plated Brass Sleeve with light weight Aluminium Piston and Ring, Zimmerman disk valve induction,17.5mm Tillotson racing carburetor, Separate head button, High volume black anodised water jacket, Magneto ignition system with separate high tension coil, Adjustable angle exhaust header and belt start pulley.

Bore: 32mm x Stroke: 33.5mm

RPM: 20,000+ , Weighs 2kg

Engine mounts available to suit 5" engine rails. (Detailed below)

Export P

rice:

AUD 1220

.00

Australian Residents: $ 1340.00 (Inc GST)

IN STOCK

CMB 28.5 EVO2 Rear Exhaust Gasoline Engine

New 2021 28.5 EVO2 engine features the latest version crankshaft, new design piston/sleeve, new head button, new water cooled backplate and new carburetor.

CMB designed the new 28.5cc gasoline engine from the ground up using the latest in 2 stroke technology and manufacturing processes.

Features a removable Hard Chrome plated Brass Sleeve with light weight Aluminium Piston and Ring, Zimmerman disk valve induction,17.5mm Tillotson racing carburetor, Separate head button, High volume Purple anodised water-cooling jacket, magneto ignition system with separate high tension coil plus belt start pulley.

Bore: 32.9mm x Stroke: 33.5mm

RPM: 20,000+ , Weighs 2kg

Engine mounts available to suit 5" engine rails. (Detailed below)

Export P

rice:

AUD 1220

.00

Australian Residents: $ 1340.00 (Inc GST)

IN STOCK

CMB Ignition & Head Clearance Setting Tool

Great tool for measuring Ignition Timing and Head Clearance on CMB plus Zenoah gasoline engines with 10mm spark plug threads.

Kit includes a high quality dial indicator with 0.01mm increments and 0-10mm range plus a 10mm threaded spark plug adaptor and detailed CMB instructions.

A must have precision tool for anyone modifying engines

Export P

rice:

AUD 81.80

Australian Residents: $ 89.95 (Inc GST)

IN STOCK

CMB Gas Engine Rubber Isolation Mount Kit

Available to suit CMB 27 Alpha and 35RS gasoline engines with 5" Engine Rails. Kit includes all hardware to mount the engine as shown in picture.

CMB 27 Alpha Engine Mount Kit - Export P

rice:

AUD

118.15

Australian Residents: $ 129.95 (Inc GST)

CMB 35RS Engine Mount Kit - Export Price: AUD 118.15 Australian Residents: $ 129.95 (Inc GST)